Although I've been in Mumbai for two months now, I have done very little eating out (strange for someone who wears their "gastronome" badge proudly). Of the few restaurants I have been to though, I have been largely happy with my meals, including an Asian feast I devoured yesterday at Pa Pa Ya.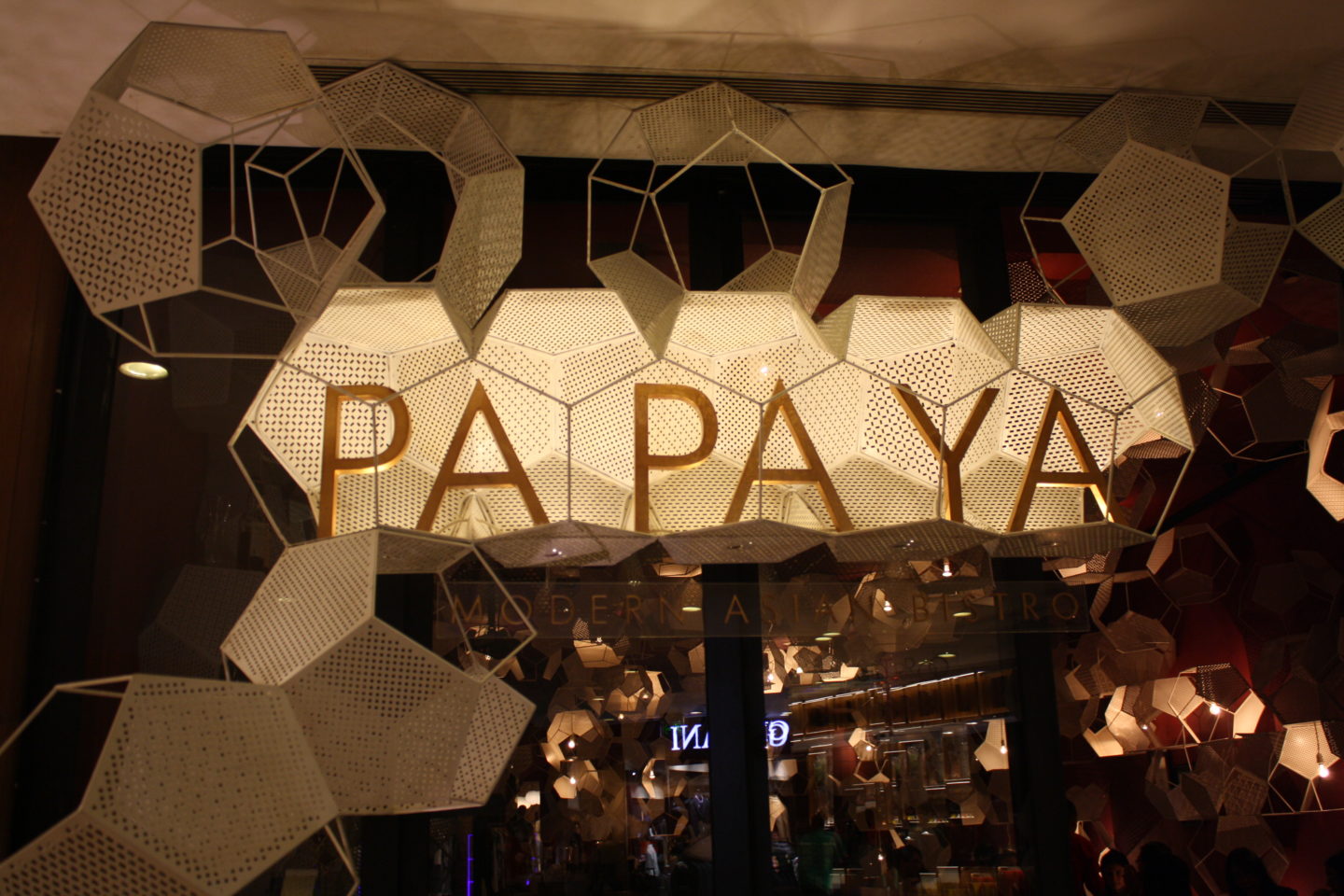 Located in Palladium, an upscale shopping mall in the Lower Parel neighborhood of Mumbai, Pa Pa Ya is a part of Massive Restaurants, a large restaurant group run by the Kalra's, a well-renowned culinary family. I was initially attracted to this restaurant because of its attractive design: the red walls in the whole restaurant are covered with white hexagonal prisms. Despite a rush of customers both in-person and on the phone, the hostess calmly lead me to my table and put me in the care of Rajesh, my waiter. His knowledge about the items on the menu was evident as he answered my numerous questions with confidence and ease. With his guidance, I ended up ordering three items that I really enjoyed: one dim sum, one tapas, and one four-piece sushi roll. As I was dining solo, I ordered all small plates so that I would be able to try as many dishes as possible while still being able to walk, and not waddle, out of the restaurant (STORY TIME!! In Madrid, I ate so much one night that after I left the restaurant I couldn't walk comfortably upright! Luckily, I had purchased a large denim jacket earlier in the day at Zara so I unzipped my skirt enough to let my bloated stomach feel freedom and I put the jacket on to cover the fact I was walking around with undone clothing… That October evening taught me an important and unforgettable lesson about ordering).
The meal began with an amuse-bouche: a little piece of watermelon topped with lemongrass and chili flavored foam. It was served in an oyster shell atop a huge stone that was flowing with liquid nitrogen!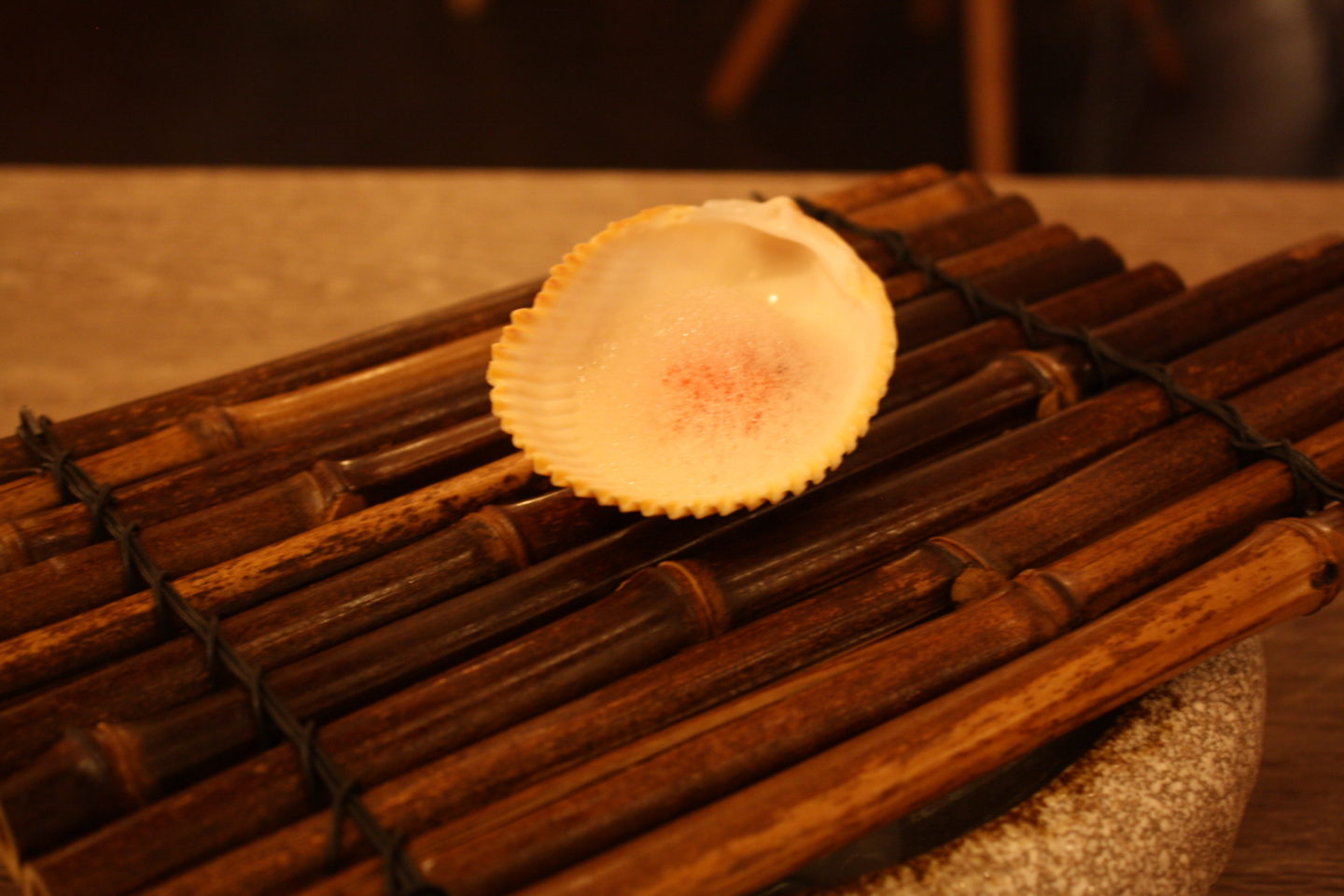 The tapas, grilled chicken and avocado tacos, came first and they were an absolutely divine mélange of Mexican and Asian flavors. The pulled chicken filling was creamy and flavorful, while the gyoza shell was perfectly crispy and crunchy like a tortilla. The tacos were topped with a spicy tomato sauce, referencing both Mexican salsa and Chinese schezwan sauce.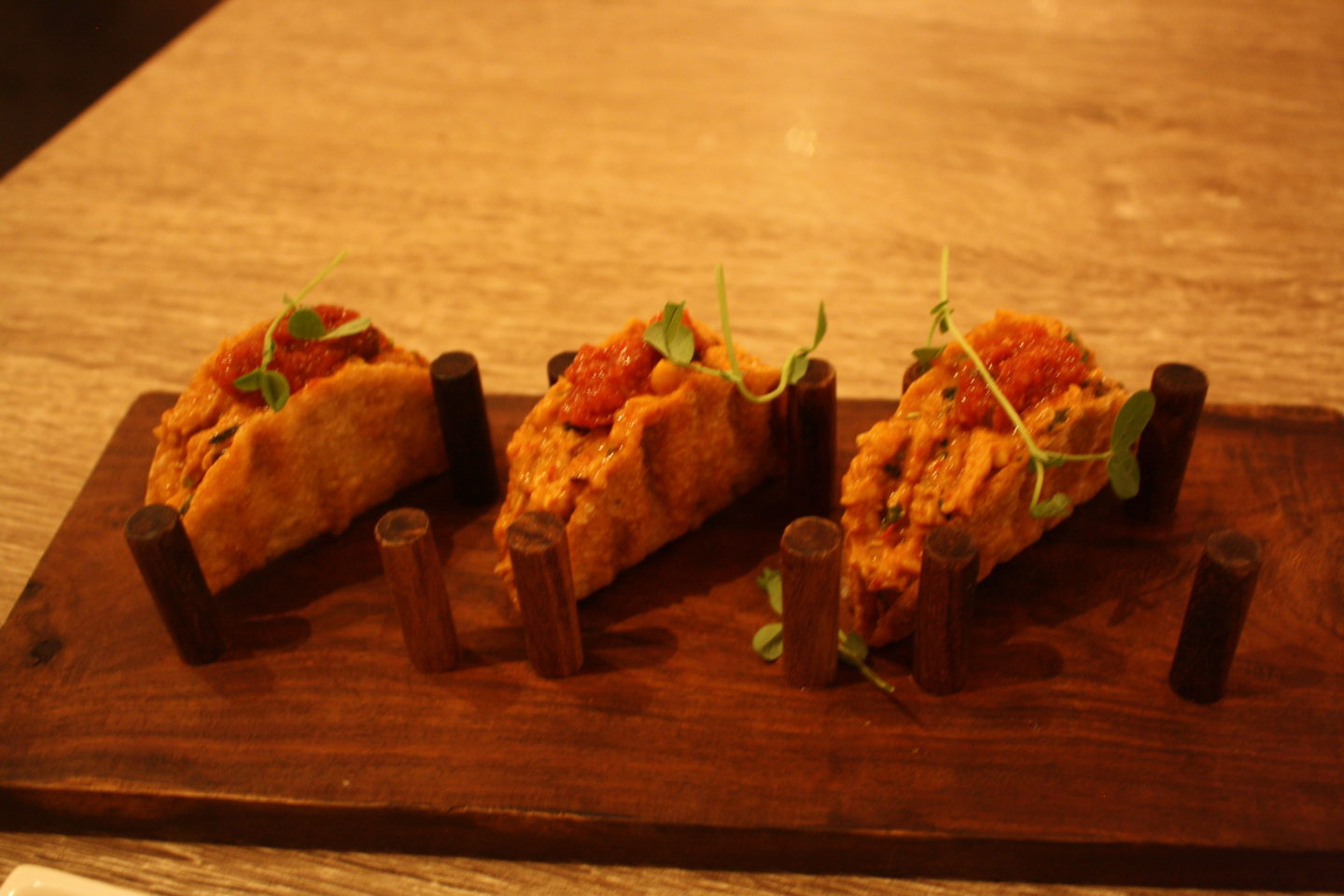 Next, I had my dim sum: crab and scallop ravioli topped with a soy sauce foam. I thoroughly enjoyed the first few bites of this dish, but I soon became a little overwhelmed by the richness of the food and also the fact that I still had sushi to come and that I wanted to order dessert. I thus only ate two of the four pieces of ravioli, but it had nothing to do with taste because the ravioli had spice and a great texture (I feel like ravioli could be described as silky… anyone else feel this way? Or just me?).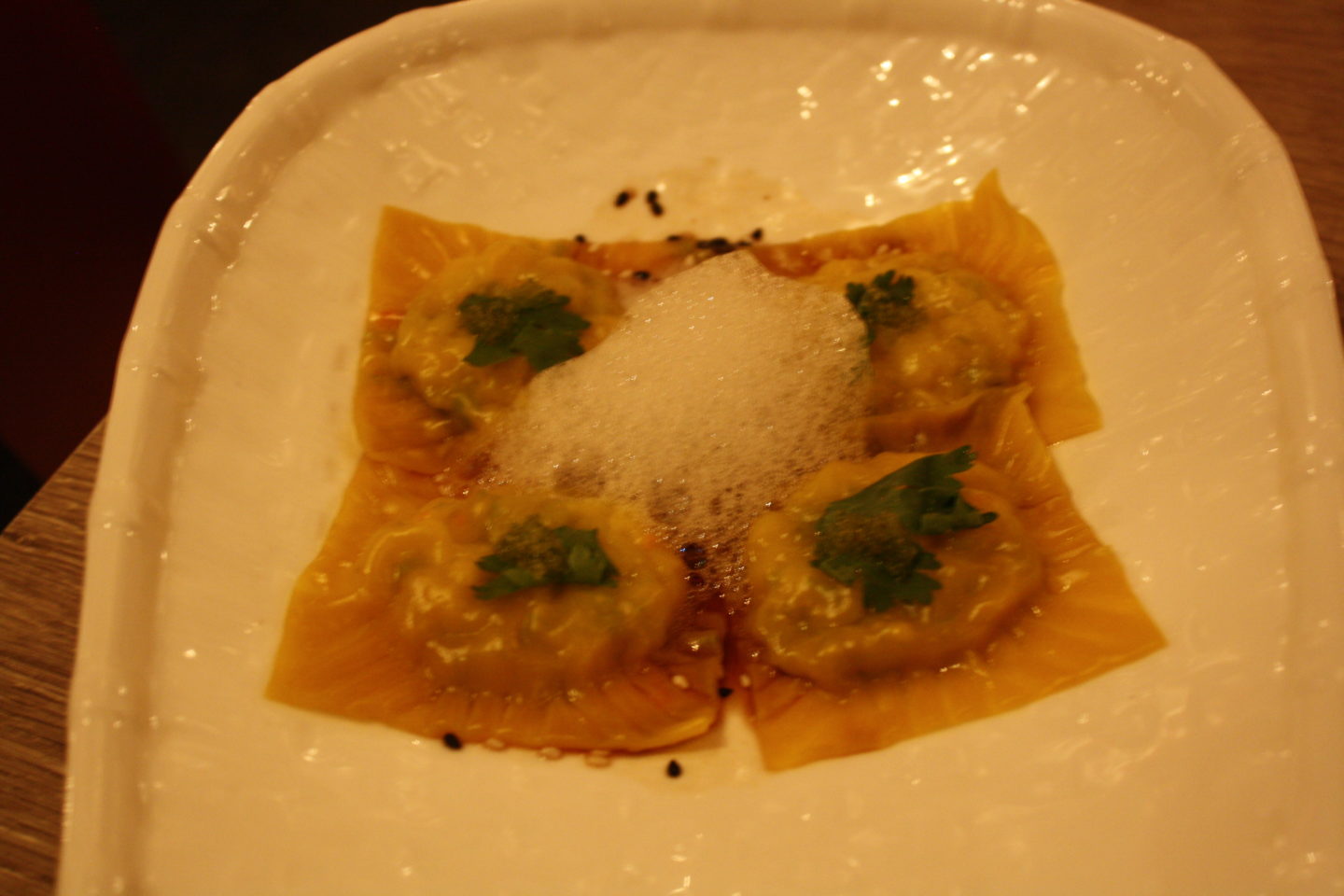 The last savory item of my meal was the XO roll. The sushi was filled with shrimp tempura and topped with a mixed seafood sauce. The sauce looked extremely thick and sticky, but thankfully it tasted light. I really enjoyed getting all those different types of seafood in one well-balanced bite!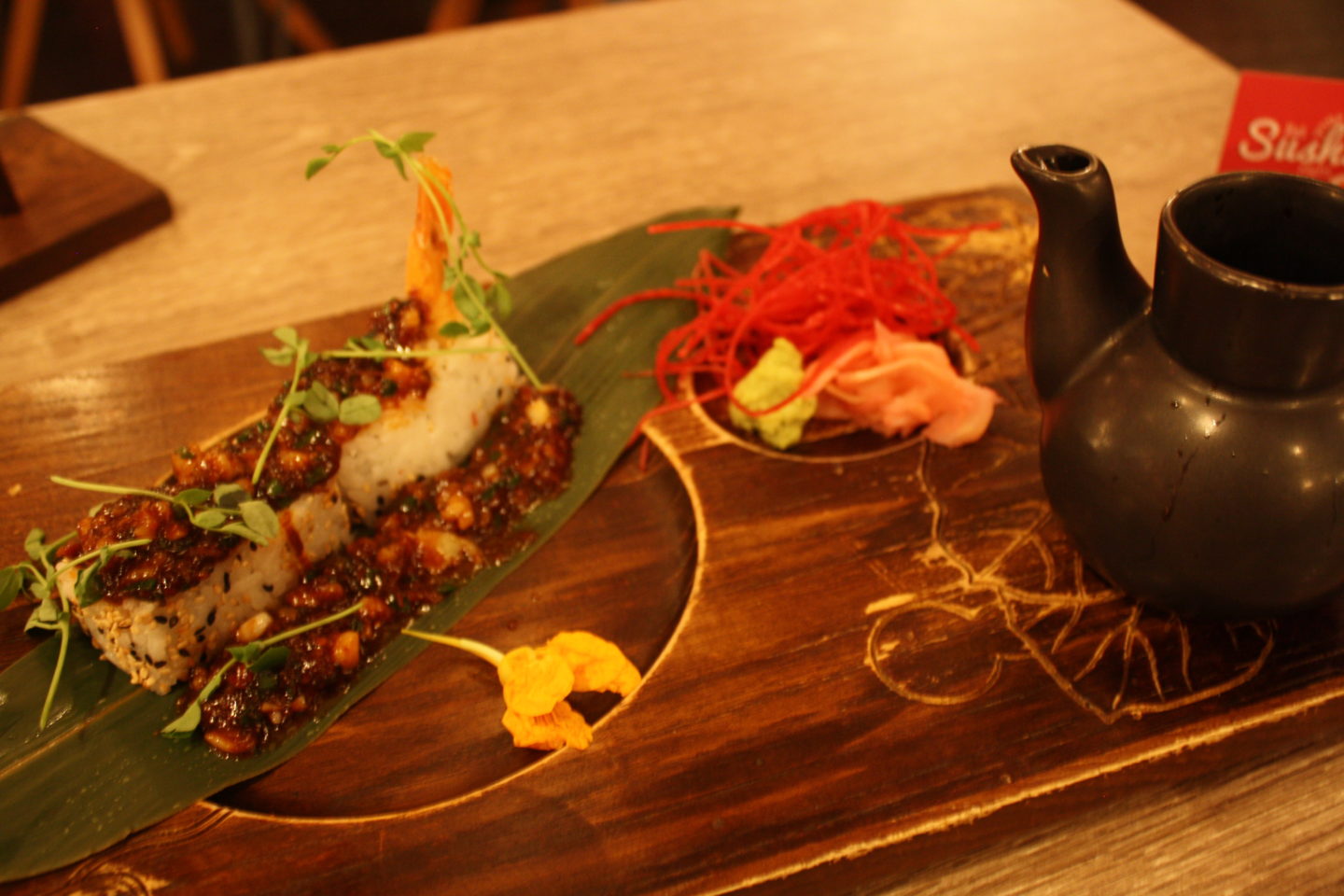 To finish my meal, I followed the recommendation of Sujit, another waiter, and ordered the hazelnut fondant cake. I love fondant cakes (what's better than melted chocolate?) and this one was the perfect size for one person who was already full. It was served with a tiny scoop of ice cream (I'm not sure of its exact flavor, but it was dark purple colored and had a relatively neutral taste), a wafer cookie, and a few berries (antioxidants are key). Unsurprisingly, the dessert was beautiful, although the cake felt a little spongy and the ice cream was hard to scoop onto my spoon (ie. it was very frozen). These two caveats with the dessert made me think it wasn't as fresh as other items on the menu. Nevertheless, the taste was still there and on point!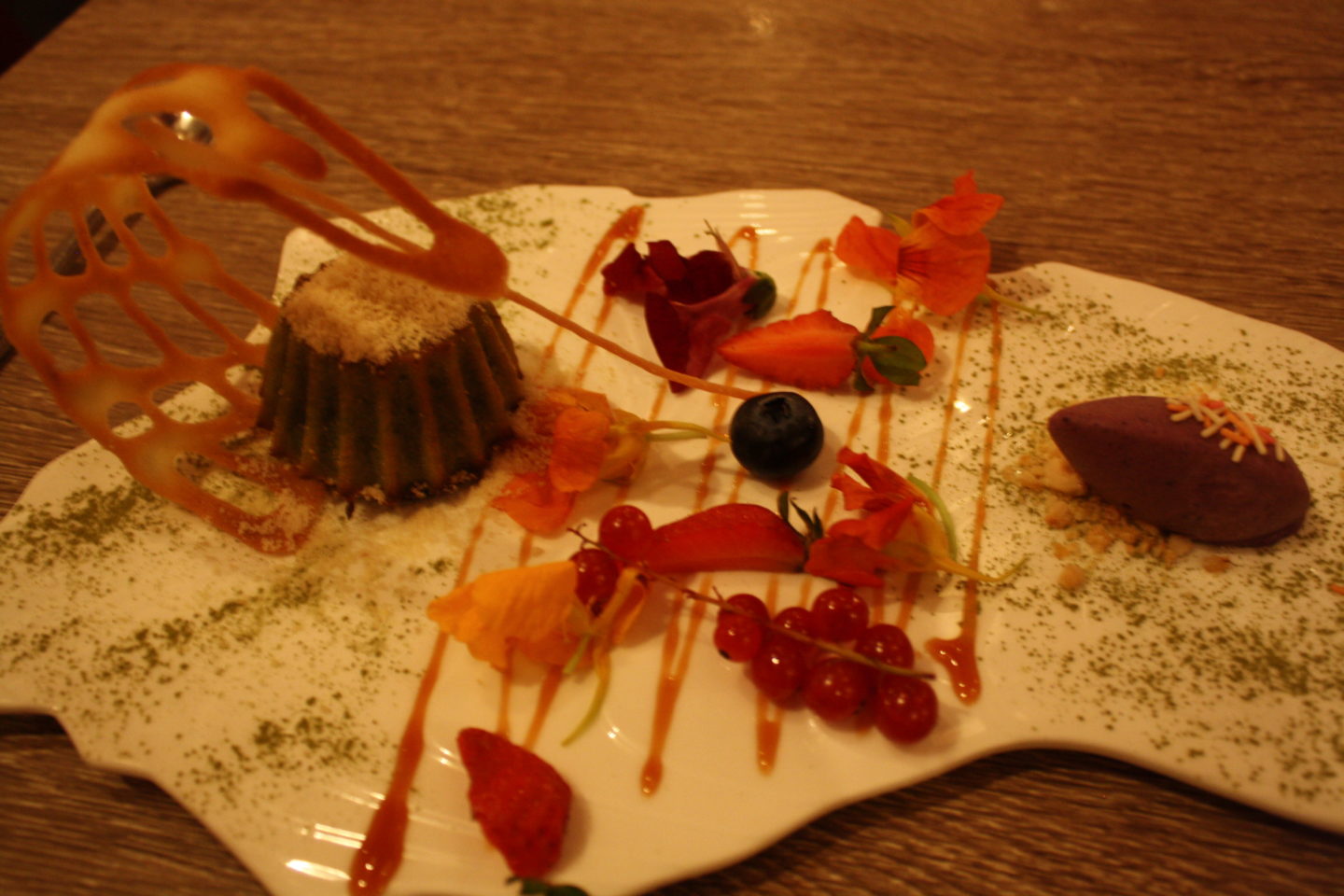 I left Pa Pa Ya (which at 1:30pm on Sunday was full) very, very happy that I ate there. I would definitely recommend it to any foodie and Asian-food lover in Mumbai. The restaurant's modern interior, fanciful plating, creative flavors, and exceptional service will not disappoint you.