The moment I walked out of the Serrano metro station and onto Calle de Serrano, I felt like I had arrived in a new city and not Madrid. The area was quieter and less crowded in comparison to the chaos of Sol and the Gran Via. Also, there were so many more high-end designer stores (Burberry, Chanel, Dior, etc.), which are unfortunately out of my budget but still make for good window-shopping. A few minutes on Calle de Serrano made me realize that I had found my new favorite area in Madrid: Salamanca!
Three of my favorite restaurants in Madrid are in Salamanca and this particular post is about Restaurante Tepic (you can read about Bar Tomate here and Restaurante Ten Con Ten here). These three restaurants are all on the pricier side, and are all also formal sit-down places (well, not formal like no jeans-no sneakers, but they have a fancy schmancy vibe to them). Funny enough, all three of these restaurants are on the same street, so if you are planning a trip to Madrid and want to eat in Salamanca, you could walk into all three restaurants before deciding which to eat at.
---
For some reason, I have had lots of Mexican food cravings while in Spain. I don't eat much of it at home (not even the ever popular Chipotle), but I guess it's the familiar permutations of salsa, guac, chicken, cheese, and tortillas (I'm not a beans and rice girl) that have me seeking it out here.
After walking by it a few times, I finally tried Restaurante Tepic Mexican for some upscale Mexican fare and flair. I arrived right when they started serving dinner (around 8pm) without a reservation and was seated without an issue on the restaurant's first floor. I was offered a seat in their basement but I declined it because I had no idea what the difference would be. As my meal wore on though, lots of noise traveled up the stairs so I think that the downstairs is lit, while the tiny upstairs is quiet like a church mouse. Next time I will know better.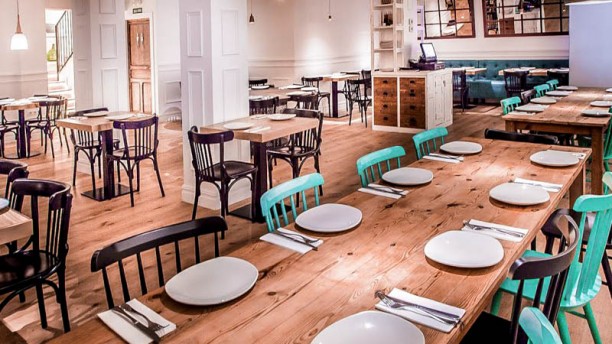 After ordering a refreshing glass of aqua, I had an octopus toast appetizer. Instead of receiving a platter of small, toasted, fluffy bread with grilled octopus on top, as I expected, the toast was two thin and crispy corn tortillas smothered in a chunky white spread of octopus, purple onions, avocado, and coriander. Although being initially unimpressed with the presentation and the fact that the dish wasn't what I expected, I ended up really enjoying it! The contrasting textures of the tortilla and the octopus made each bite so fulfilling.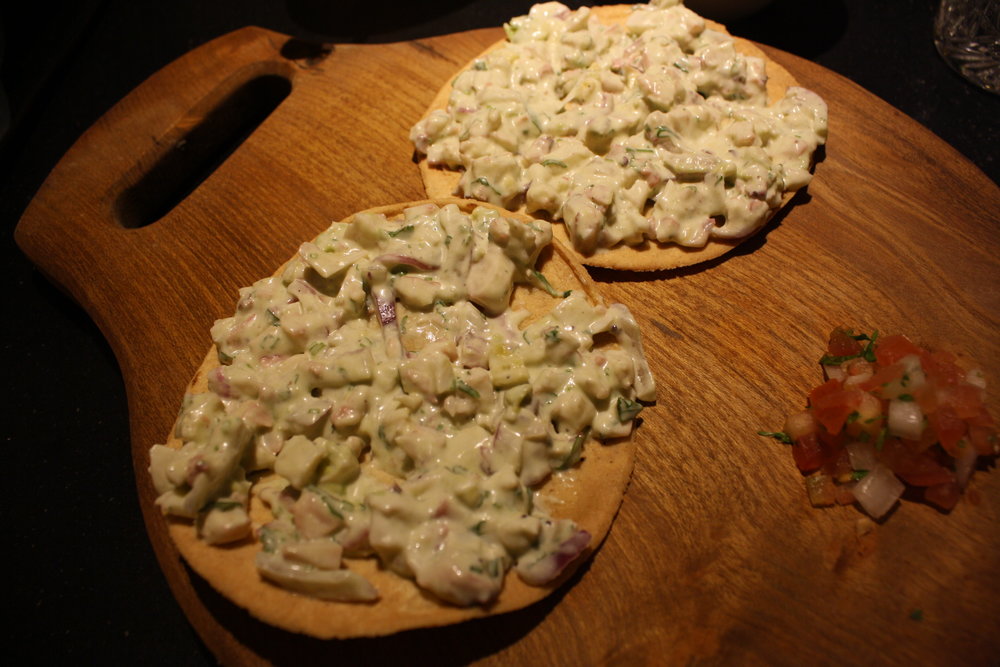 For my main course, I had an order of tacos al pastor. I personally liked the appetizer a lot more than this entrée. The tortillas used for the tacos were called sopitos and they were extremely thick, which I did not enjoy one bit. Additionally, the taco filling (only chicken, pineapple, and onion) was a bit bland for me and I didn't realize until after I received the plate that I was supposed to order extras like salsa and guacamole separately. Regardless, the tacos were small that I ate all four and called it a day.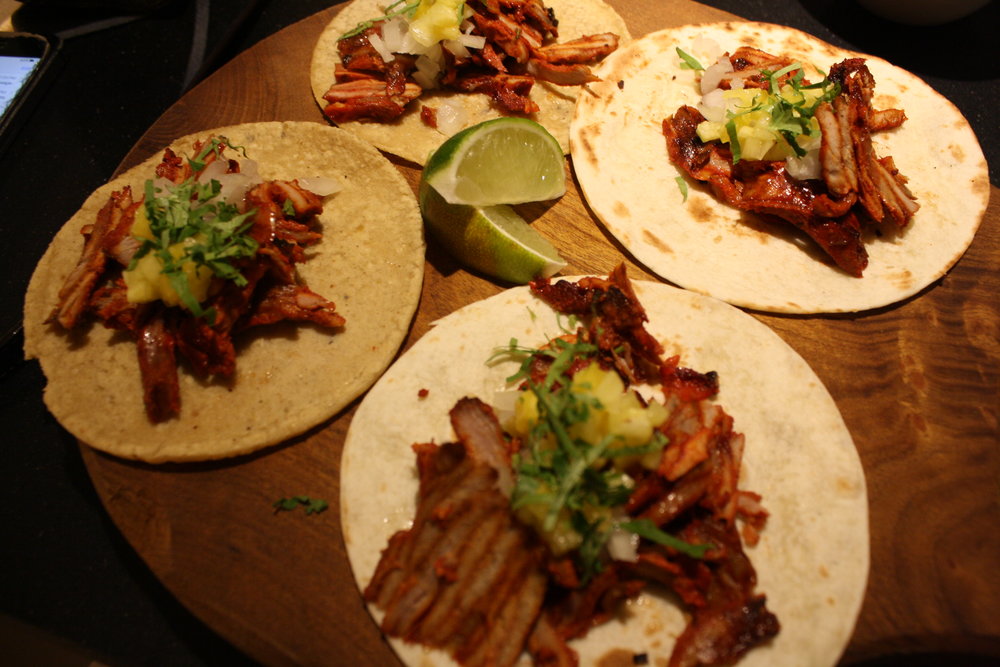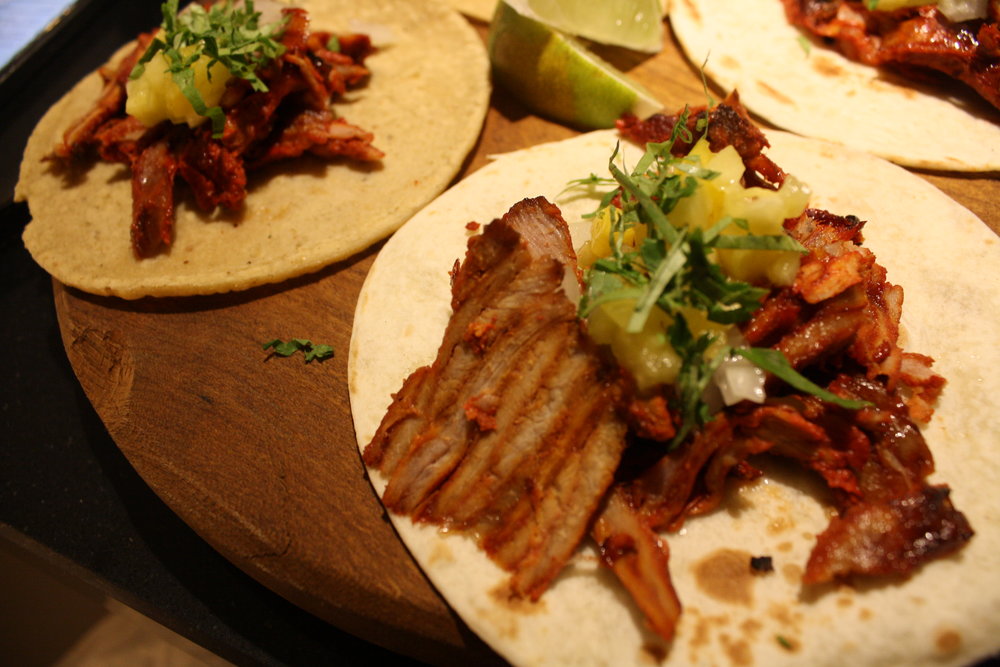 Well actually, when I said above that I "called it a day" after the tacos, I mean I ordered dessert: small crispy, cookie disks layered with dulce de leche and vanilla ice cream. It was a simple and tasty way to end my meal.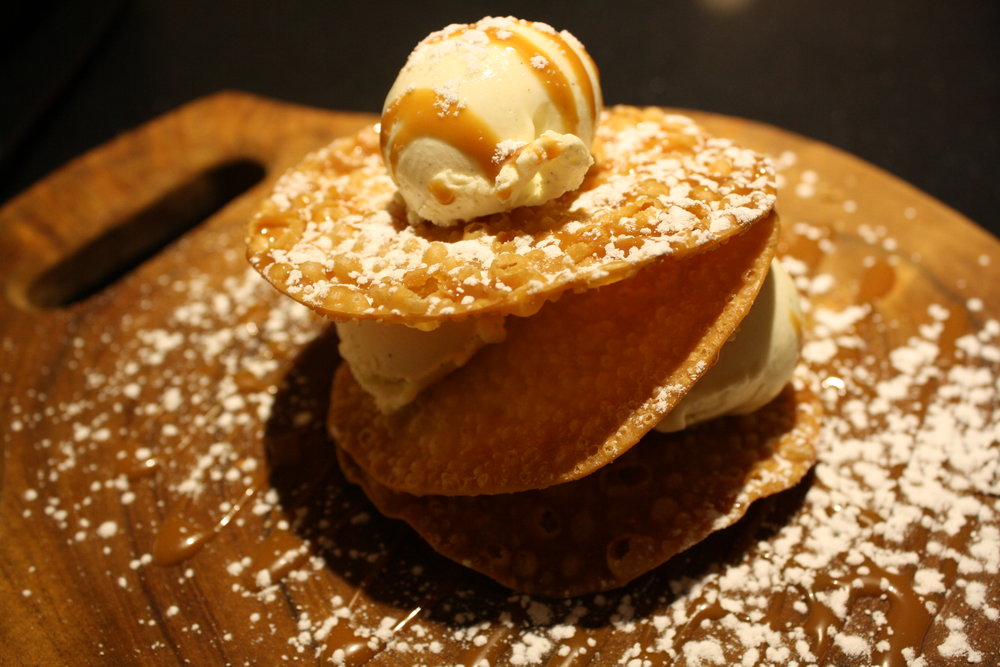 I really enjoyed Tepic and I highly recommend it. They have a large menu, so even those who are like me and impartial to Mexican will enjoy the creative and authentic cuisine!
On a scale of 1-10, how hungry did this post make you? Let me know in the comments below! Hope you enjoyed reading.