My first weekend in Spain, I headed to Barcelona with my dad who had traveled to Spain with me and stayed for a week. We ended up having a great time on our little weekend getaway! Although I haven't been to that many cities around the world, I do have to say that Barcelona is one of my favorites!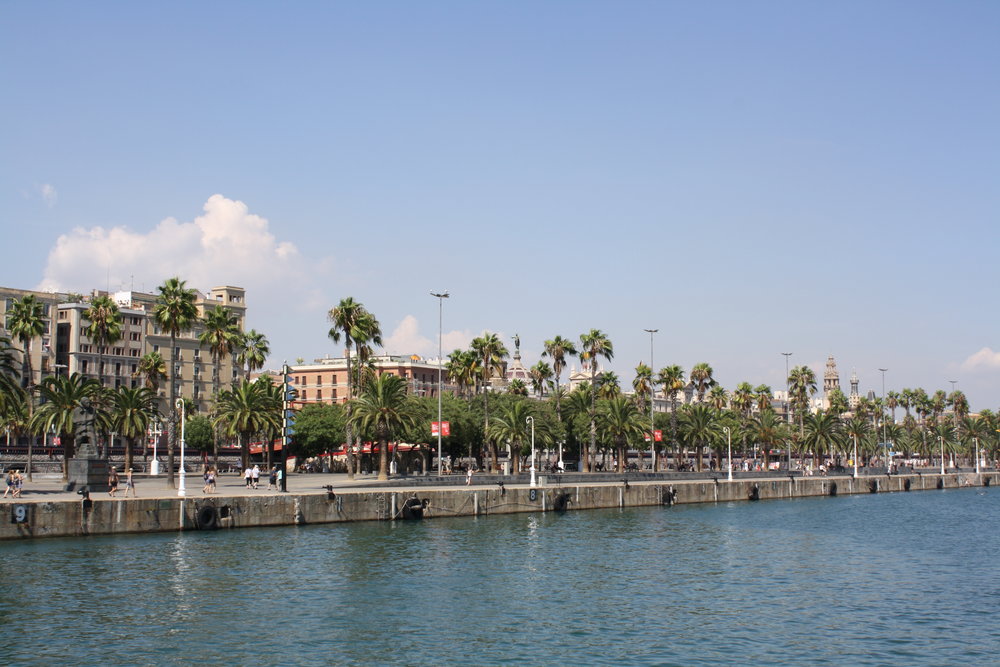 Beachy, tropical Barcelona!
We had an early start to our weekend, leaving the Madrid-Atocha station at 5:50am. We took the RENFE Ave train, which was clean, comfortable, and quick! I seriously wish there was a high-speed rail system in the States. How easy would the trip from Boston to New York be?
My dad and I got to Barcelona at 8:55am and we headed to our hotel, the Ibis Barcelona Pza Glories 22. It wasn't the best hotel I've stayed at, but it definitely wasn't the worst. My father wasn't as positive about it as I am, but that's what he gets for wanting to book a cheap hotel. Hopefully on our next trip to Barca we'll have the funds to stay at the W on Barceloneta Beach 😉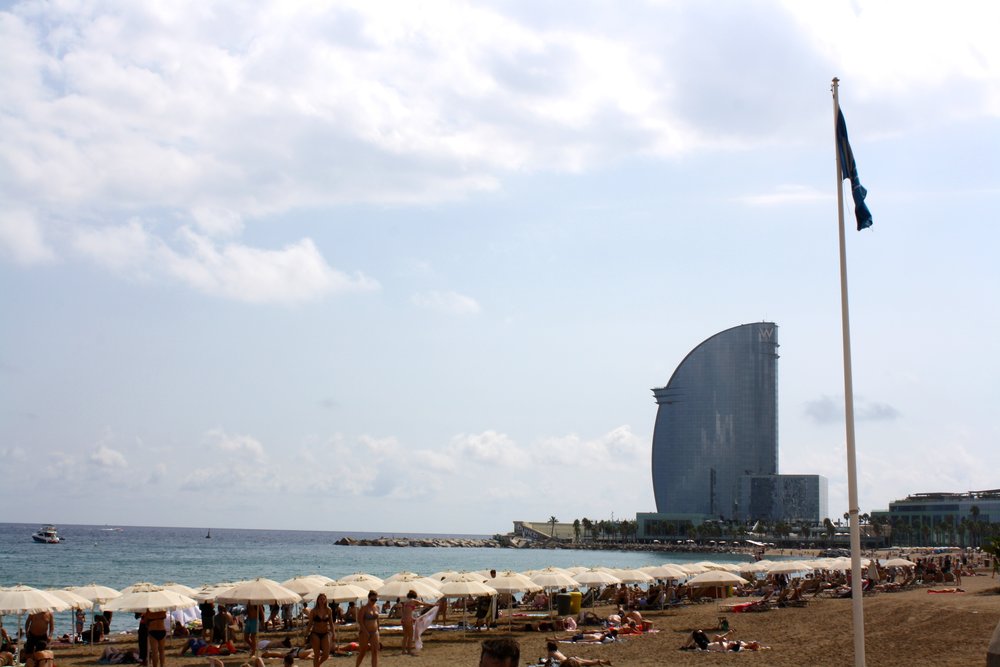 The W Hotel on Barceloneta Beach… where we wish we had stayed!
After check-in, we headed to Parc Guell only to find out that the next entry wouldn't be for several hours. We were about to buy tickets for the next day, when the man working there kindly informed us that the park was completely free and open before 8am. My dad and I decided we'd follow up on this option the next morning, so we left the park and headed to the Sagrada Familia where we faced a similar predicament. That's when we decided to head back to the hotel to plan a bit so that we didn't waste any more time being rejected from sights or facing long lines.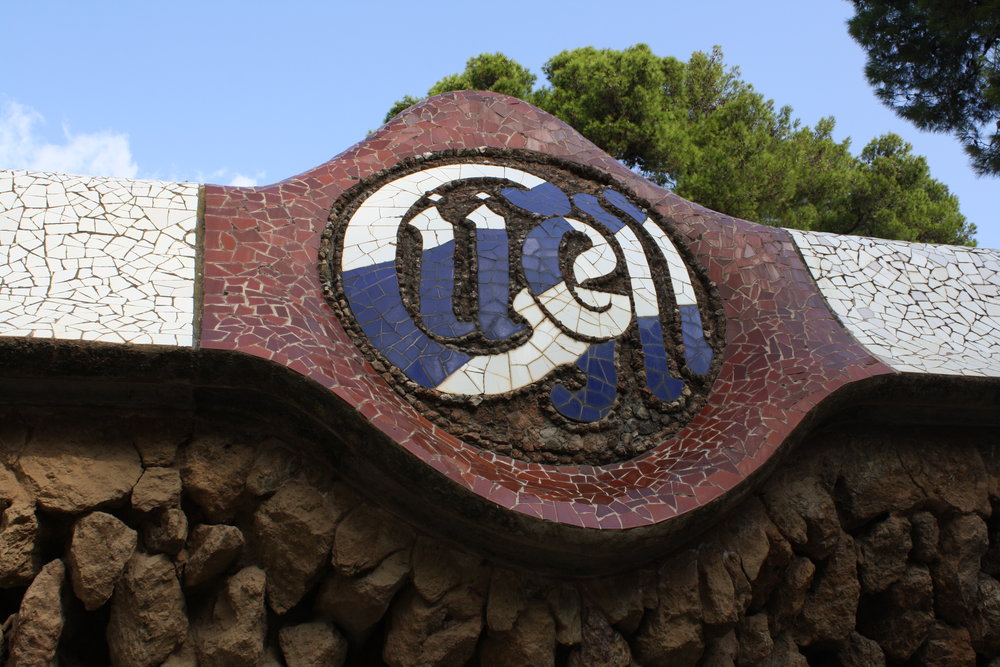 After a quick planning (me) and napping (my dad) break at the hotel, we headed back out into the city. First Stop: lunch at the Surf House because our stomachs were so empty that they were past the point of growling. We ate nachos to start and drank an açaí juice. The juice definitely had lots of added sugar, which I was not a fan of… and well… the nachos were just nachos! For my entree, I had shrimp tacos and my dad had chicken quesadillas. Not sure why were so Mexican at this meal, but whatever! We ended up finishing everything we ordered, not because the food was insanely good, but because we were starving!
While the food wasn't exceptional, the Surf House did have great ambiance! I mean, for starters, it was right on the beautiful beach, but also the clientele was very young, hip, and cosmopolitan. For me, that was generally the vibe that permeated the whole of Barcelona: fun and international!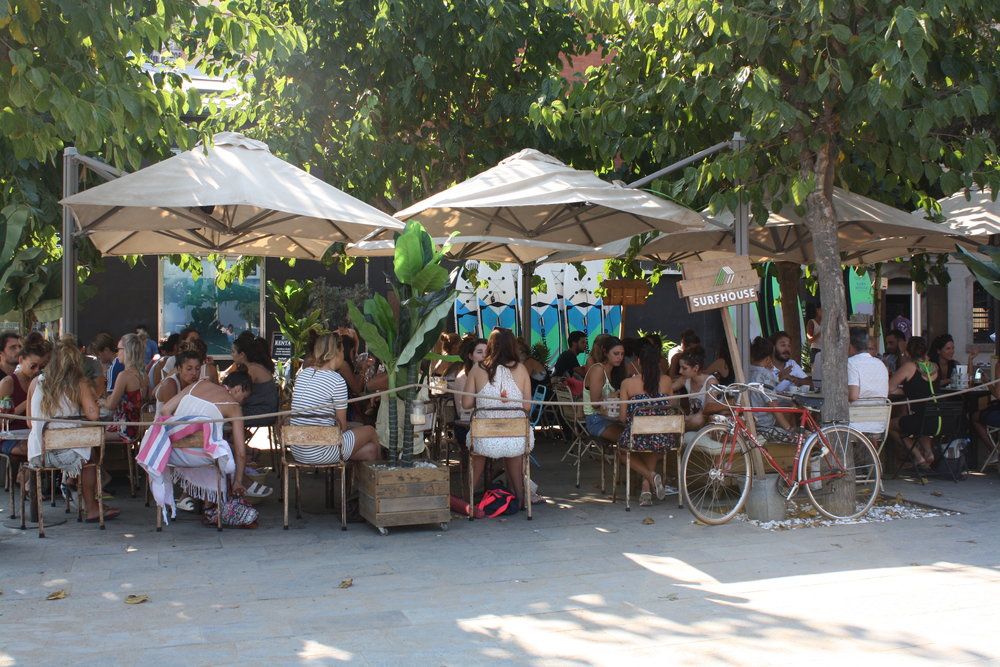 Loved the youthful, international vibe at Surf House!
Dessert after lunch was ice cream at a little shop next to the Surf House called Ice Box. My dad and I went HAM and got two scoops each… then we went back for two more each. Our doctor's definitely have insulin pens with our names on them waiting for us back home!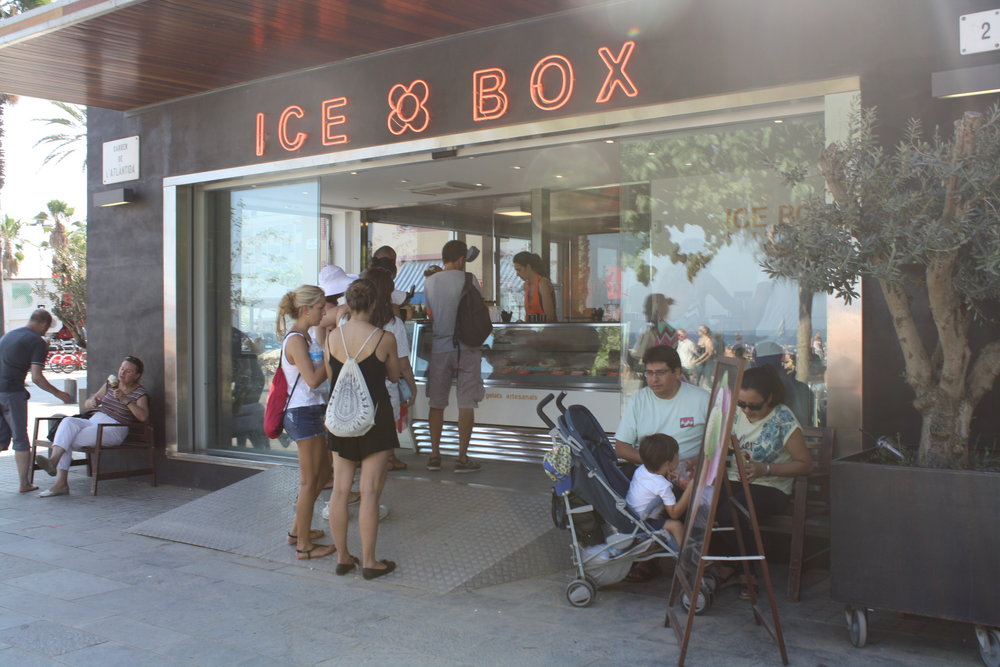 Our beloved Ice Box!
Feeling full and energetic, we headed to the Arc de Triomf! The area around the monument was beautiful and my dad and I had quickly realized how tropical this city is. We love coastal cities and were making so many comparisons between Barca and Mumbai! They were also crazy amounts of Indian and Pakistani people in Barcelona, which furthered the similarity and made me dread returning to Madrid where seeing a brown person is like spotting Big Foot.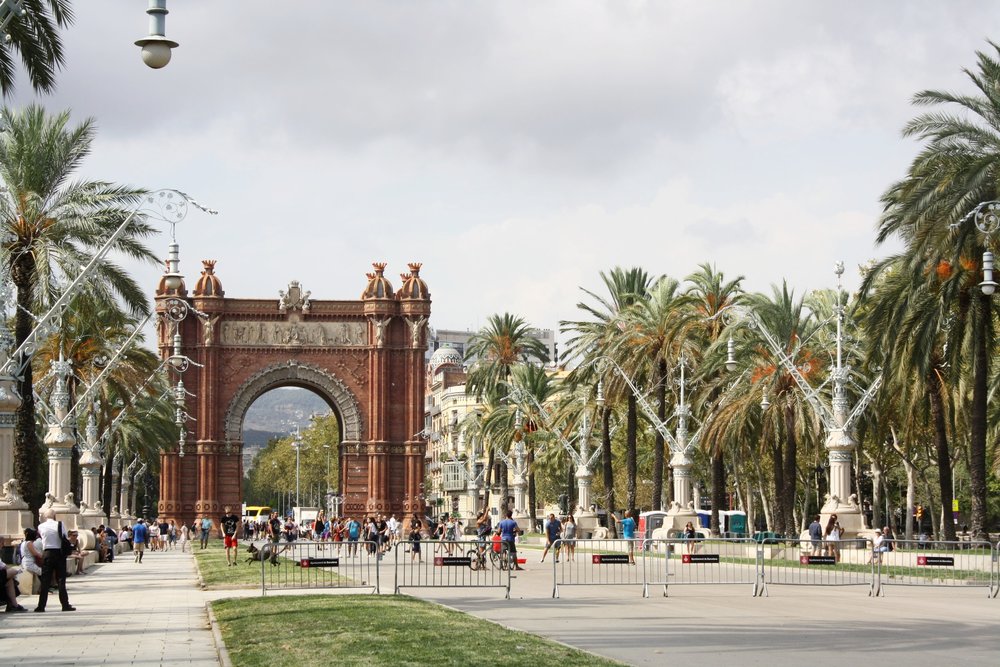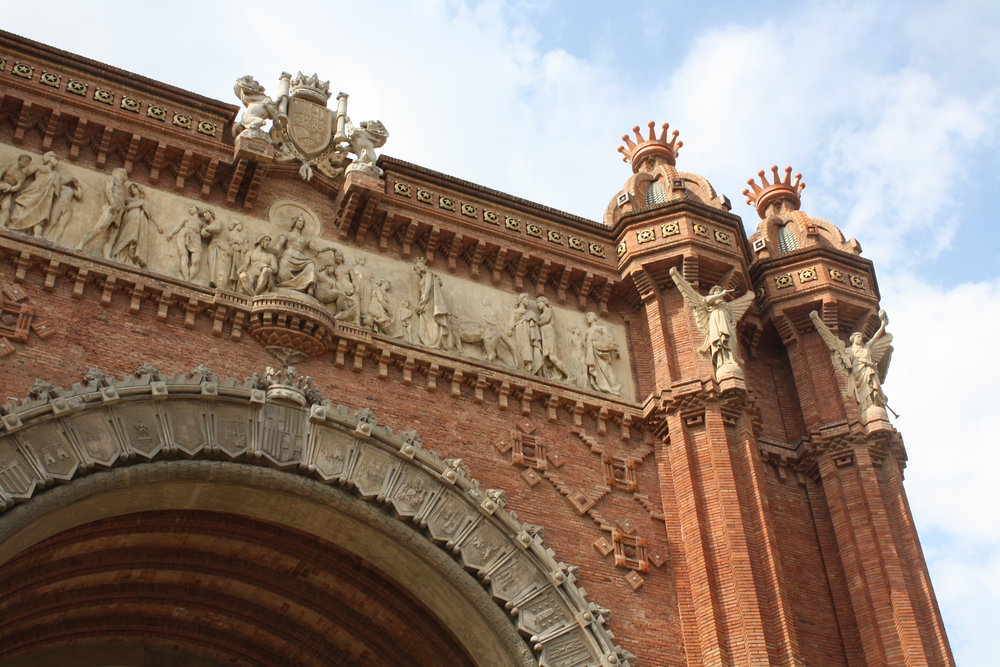 Next stop: Casa Batlló and Casa Milà on the busy Passeig de Gràcia. I thought that both houses had interesting exteriors, but the interior of Casa Batlló was much more extraordinary than that of Casa Milà's. In the end, it was nice to see contrasting works by Gaudi and to learn a bit about Barcelona's history, courtesy of the handy-dandy audio guide I got at both locations.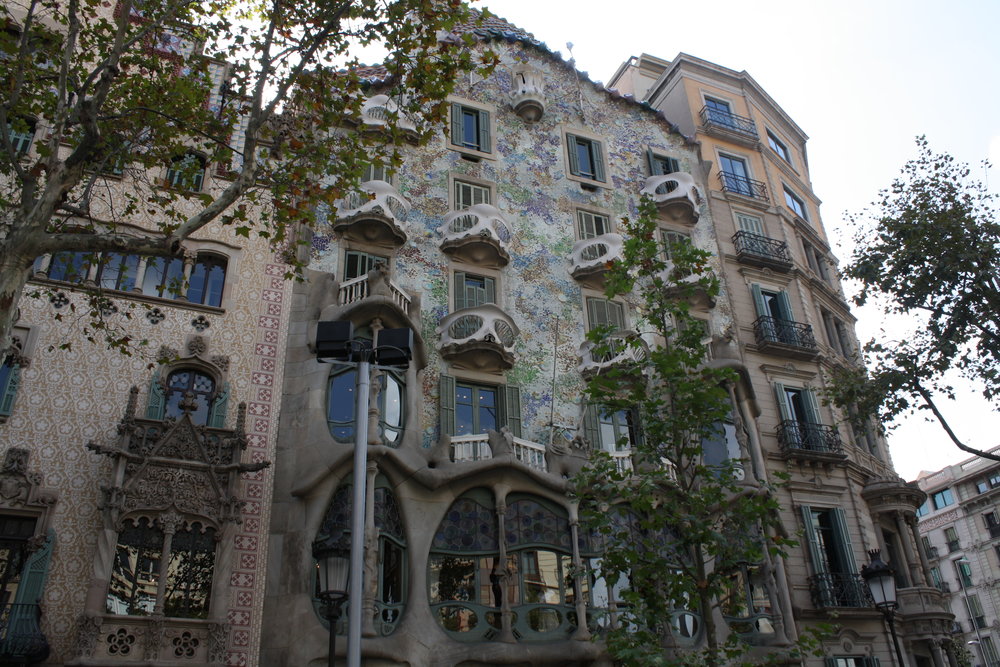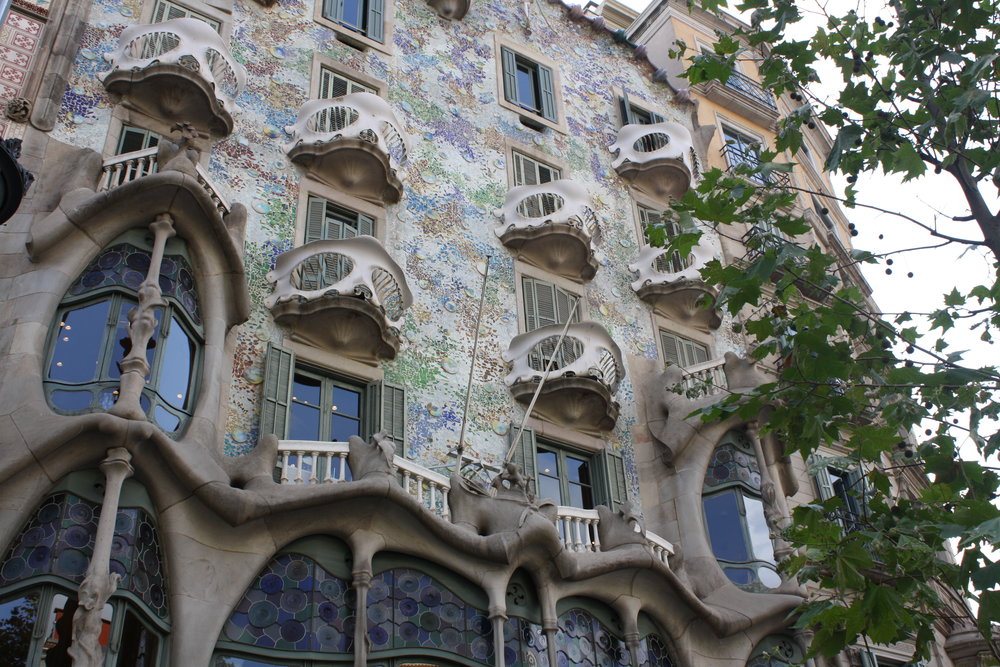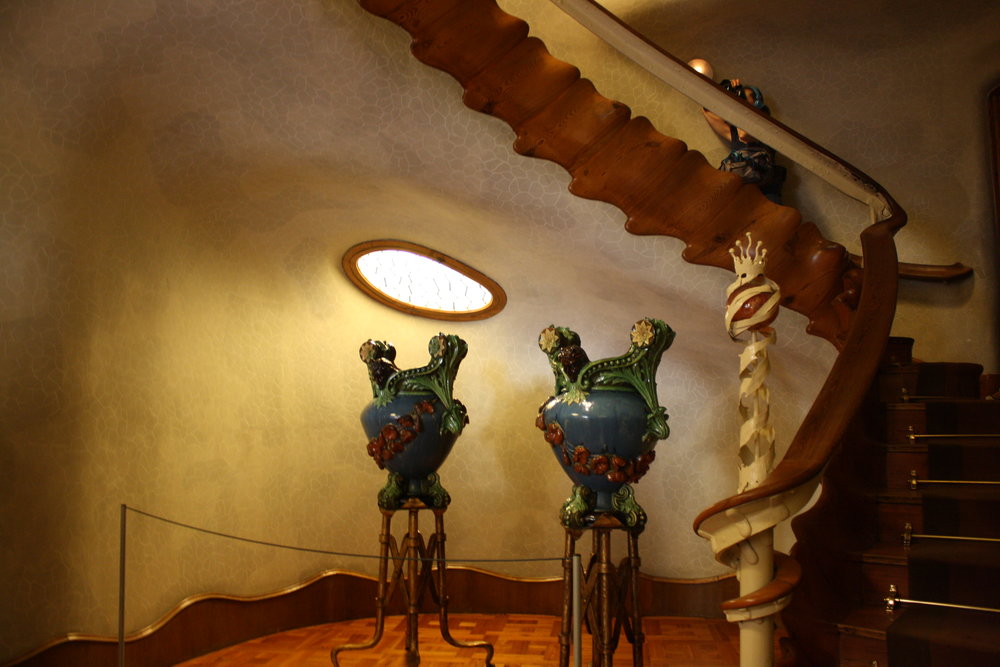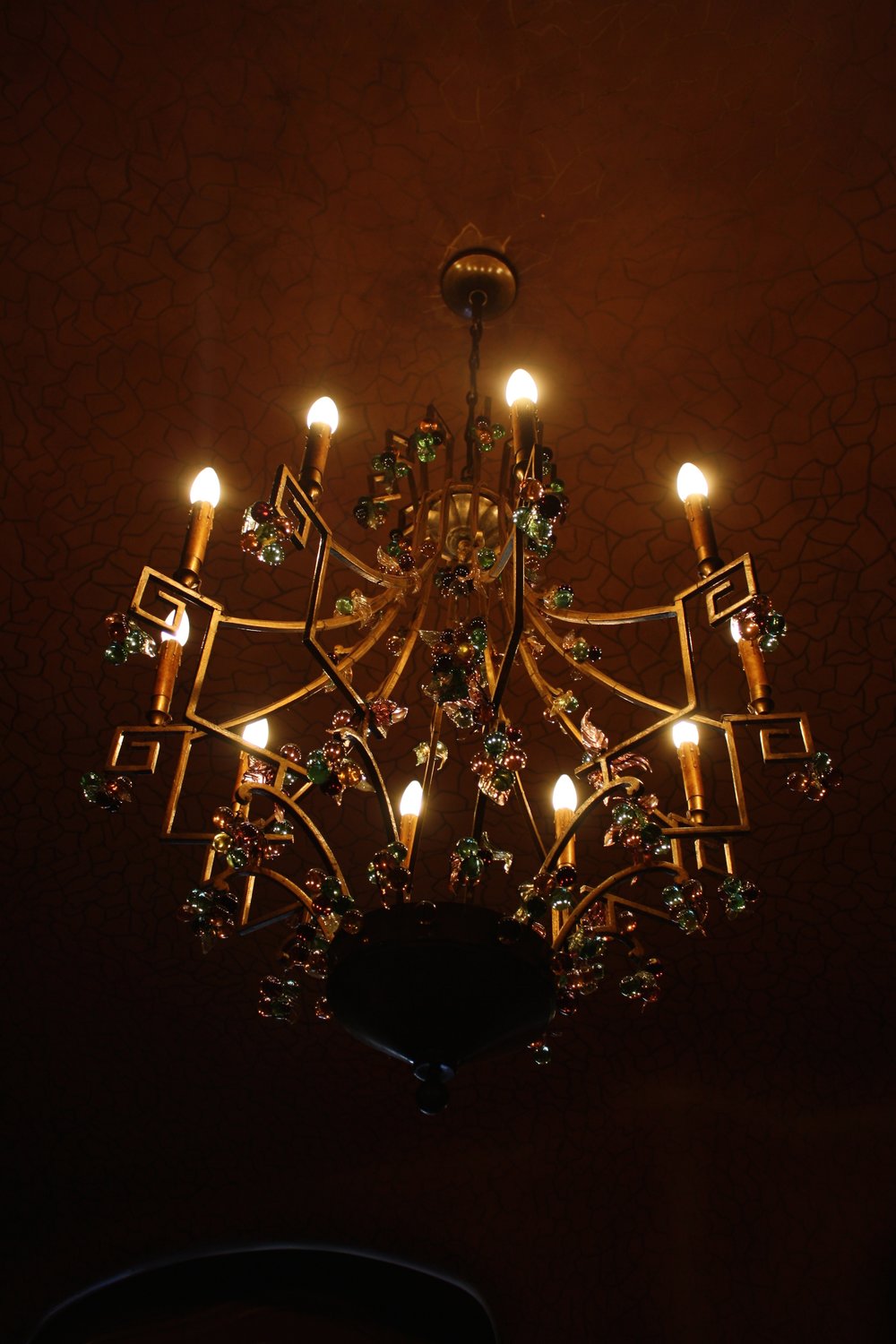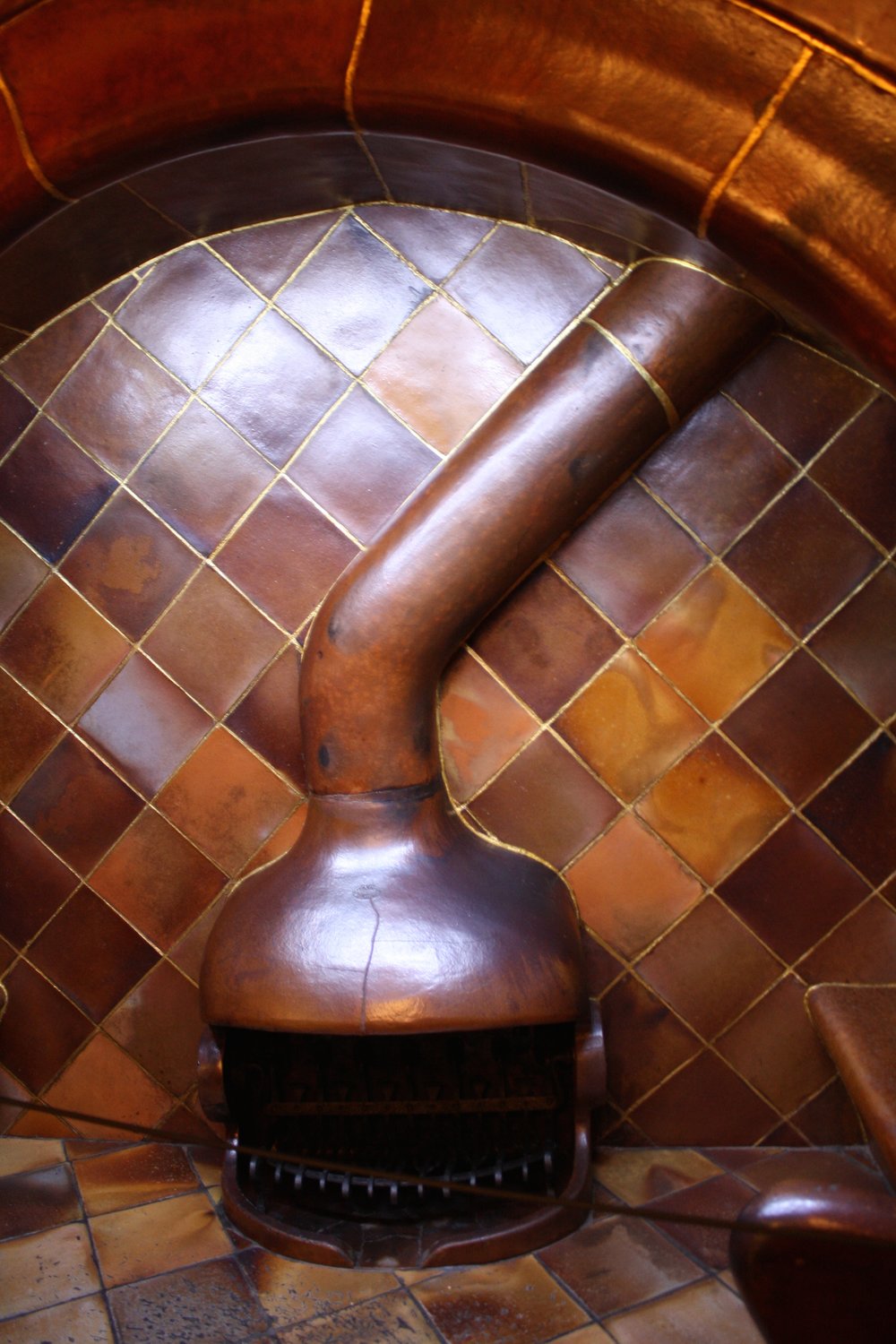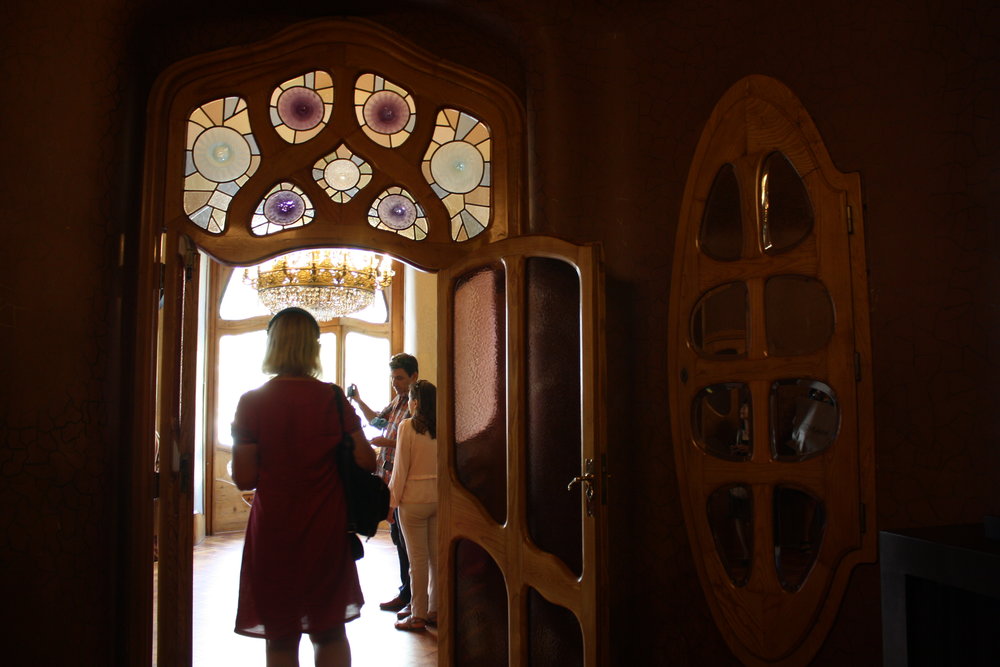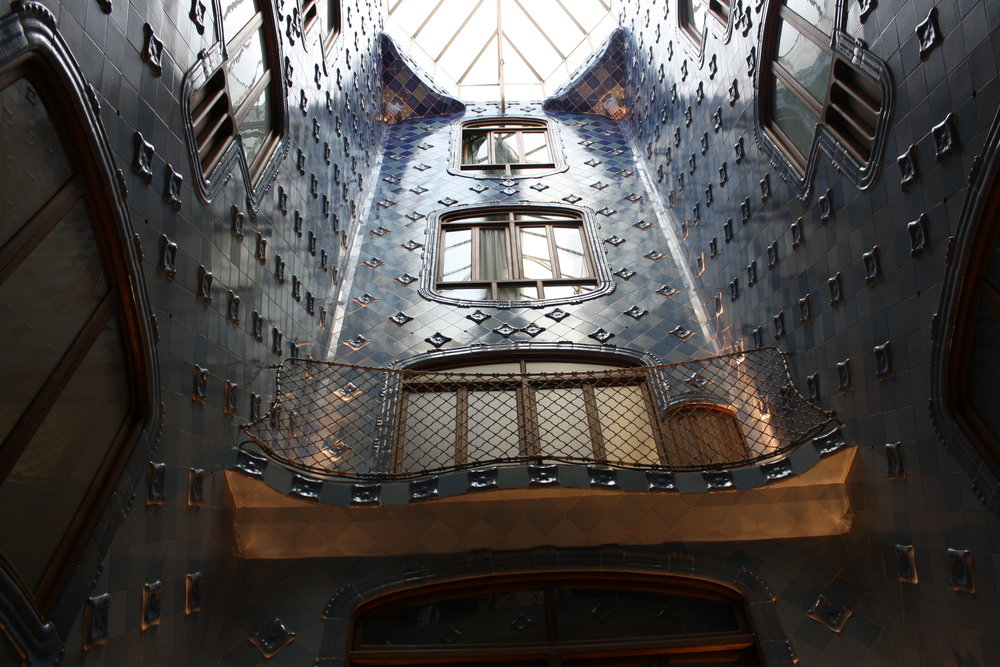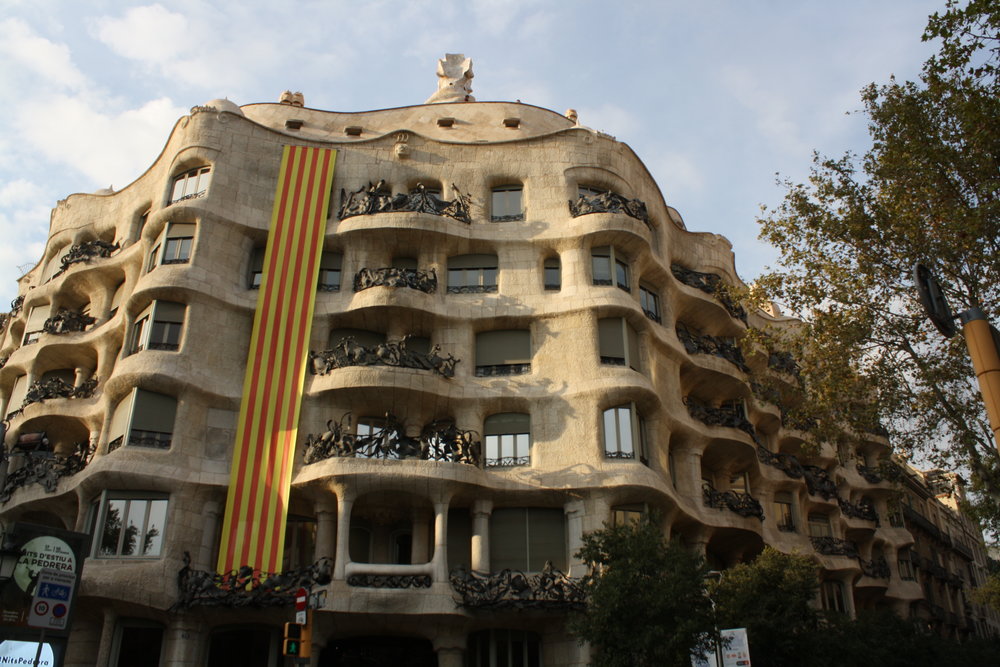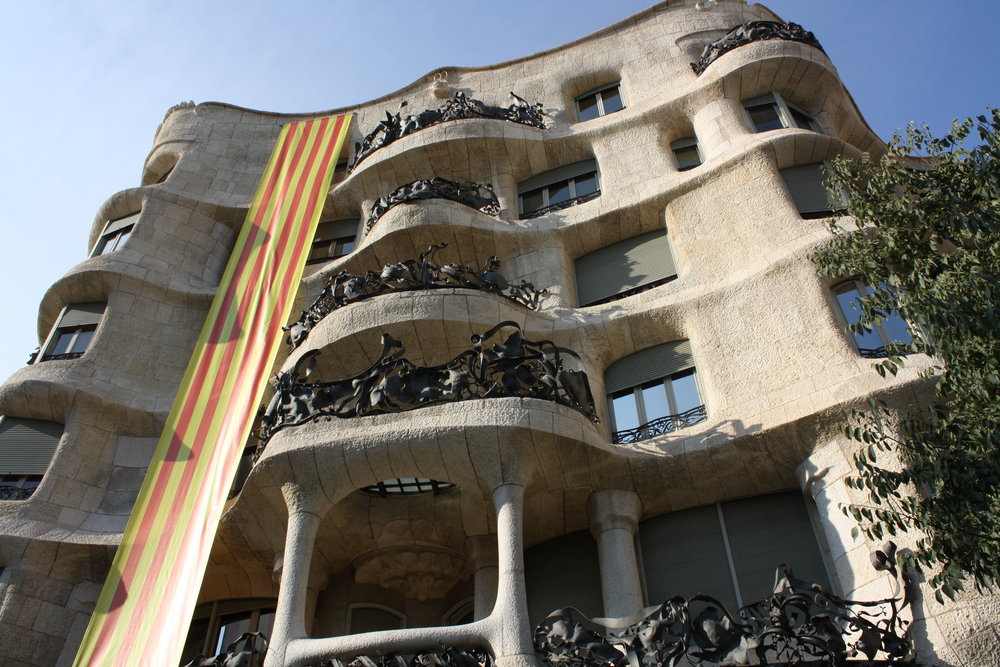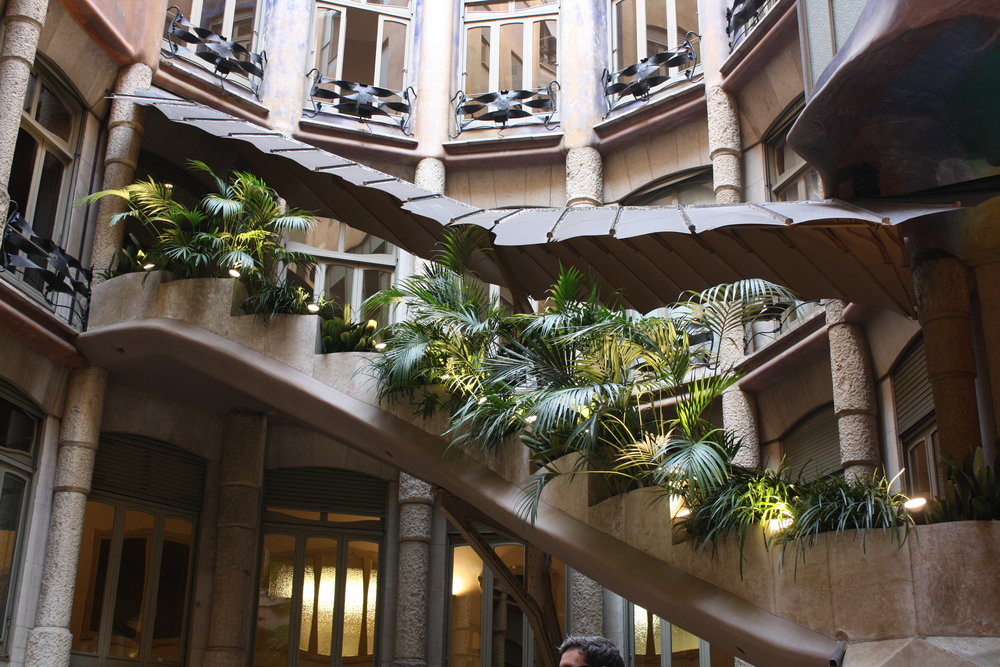 Both sights also provided great views. By the end of the weekend actually, after I had visited these two places, as well as Parc Guell and the Sagrada Familia, part of me wondered if good views made a place an even bigger draw as a tourist attraction. Anyone else have thoughts on this?
Done with Gaudi for the day, my dad and I headed to dinner at Cervecería Catalana. Over the summer, I had seen really nice pictures of this place on Instagram and had read great online reviews, so when we arrived to the restaurant and saw that it was full and that a huge crowd of people were waiting for a table, we knew we had hit the dinner jackpot… that is until we finally sat down, ordered, and ate our food. The tapas were bland and clearly prepared well in advance then just plopped on the table as ordered. Also, let's talk about patatas bravas. Am I the only one that realizes that they're pretty much just FRENCH FRIES and that often, the "aioli" being served with them is just mayo and the accompanying "tomato sauce" is just ketchup?
Cervecería Catalana's underwhelming food put us off from ordering their dessert so instead we stopped in at Haagen Daaz around the corner for some (more) ice cream. With even more sugary, dairy products in our stomach, my dad and I headed back to the hotel.
---
Hope you enjoyed reading about the first of my three days in beautiful Barcelona! Click here to read about day 2 and here for day 3. Also, sorry about the questionable photo quality and lack of photos for some things! I was having some unfortunate technological issues in Barcelona. Let me know what you think about Barca in the comments below!