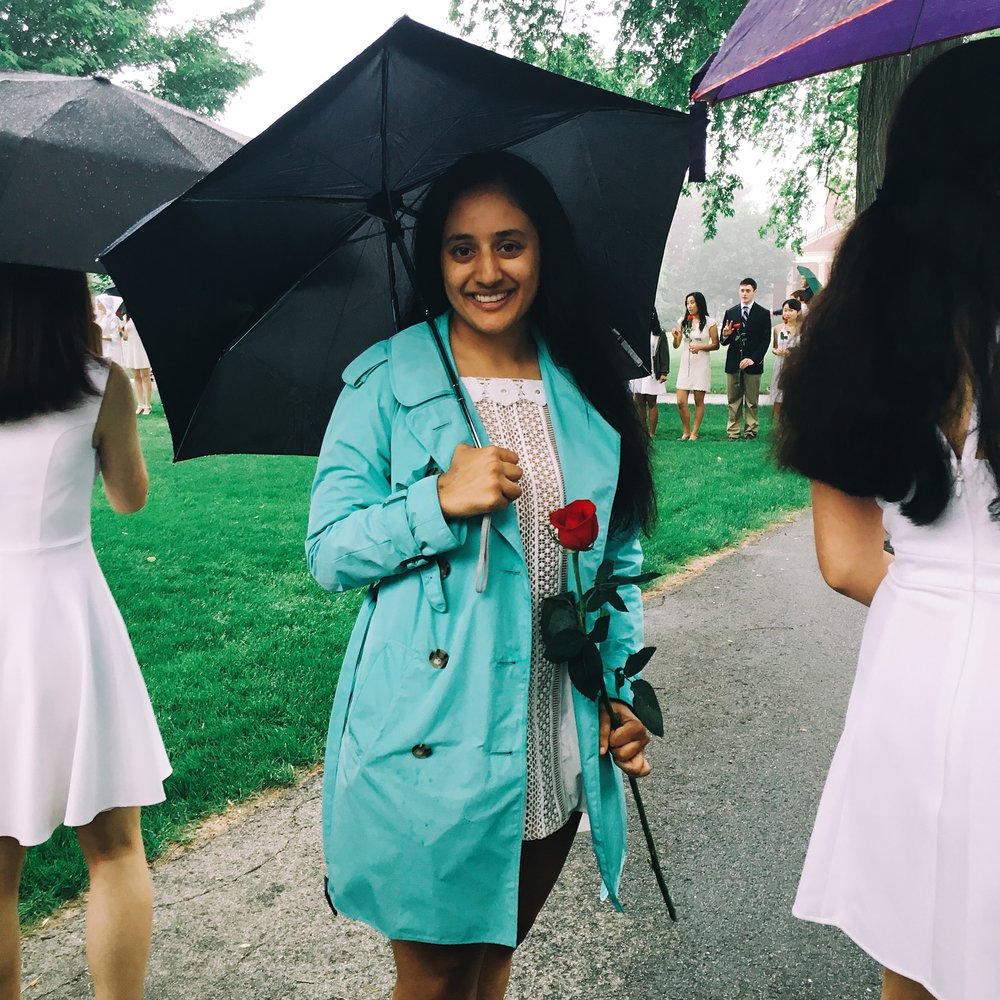 This is me on the very rainy Sunday in June when I graduated from high school!
Hello hello!
I'm Sharan, a 19-year old from a suburb near Boston, Massachusetts. I graduated from high school this past June and am now taking a gap year. A gap year, if you're unfamiliar with the concept, is time off during one's education, particularly before college or grad school. I've been intrigued by the idea of taking a gap year ever since my older sister was a senior in high school and considering the option. An opportunity to travel, work, volunteer, intern, take intensive classes, or do something completely different sounded amazing to me and it continued to seem so until my own senior year. Convincing my parents that a gap year was a good idea took some time (a.k.a. until May of my senior year), but they were finally swayed by both my passion for the idea and also the benefits of time off (there actually are so many bonuses to taking a break from school, including high performance upon returning to school and also a clearer idea of one's goals… if you want to know more about the advantages of a gap year, there are lots of articles on the internet that you can peruse).
Now that it's October, my gap year is in full swing. Over the summer, I worked a fun and intellectually stimulating retail job (did you get the sarcasm there?) and completed a DJ class. In the first week of September, I headed to Madrid, Spain where I am now working as an au pair, using my free time during the week to visit Madrid's many art galleries, museums, and restaurants (so essentially, exploring freely and being a lady of leisure) and using my time on the weekends to visit other cities in Spain and in Europe. I'll be returning home to the U.S. on December 1st, and after a month to refresh, I will be heading off to Mumbai, India. There, I will be working as an intern and volunteer at an NGO in the education sector (rest assured, there will be lots of gallery hopping and eating in Mumbai too). I will be in India for three months before I return back to America, except this time to New York City, where I plan to work and/or intern (I am still sorting out the finer details of this portion of my year). Whatever I undertake in New York City will last until the beginning of July when I plan to complete a yoga teacher training (location: TBD, but I'm thinking of doing it through Yogaworks). My YTT will conclude sometime in August, which is when I'll begin college at McGill University in Montreal, Canada.
I've chosen to take a gap year because high school was draining, both academically and emotionally. I'm hoping that what I have planned for this year will allow me to recharge and re-enter school with renewed confidence, greater clarity about what I'd like to study and spend my time doing in college, and more enthusiasm for learning. And even if my gap year doesn't end up fulfilling even a fraction of these lofty goals, I've already seen some really cool places and by the end, I'll have several new stamps on my passport. That is definitely good enough for me!
However you found this blog, I hope you enjoy reading. While I plan to use this site to share photos and stories about what I'm doing, I'm also planning on posting about other things I'm interested in so that I can keep my writing muscles strong (that's why you'll see regular posts about things like music and fashion, and if I enjoy this aspect of my blog, I might continue writing after my gap year concludes).
If there's something you're curious about in regards to this blog or what I'm doing, let me know! If you know me personally, I'm not hard to contact through text or social media, and if you don't know me but are reading this, I have a contact page on the site.
Once again, I hope you enjoy and thank you so much for joining me on this journey!
xo,
Sharan